Arwen Smit: "You can't plan for everything in ICO preparation". Interview with CMO at DOVU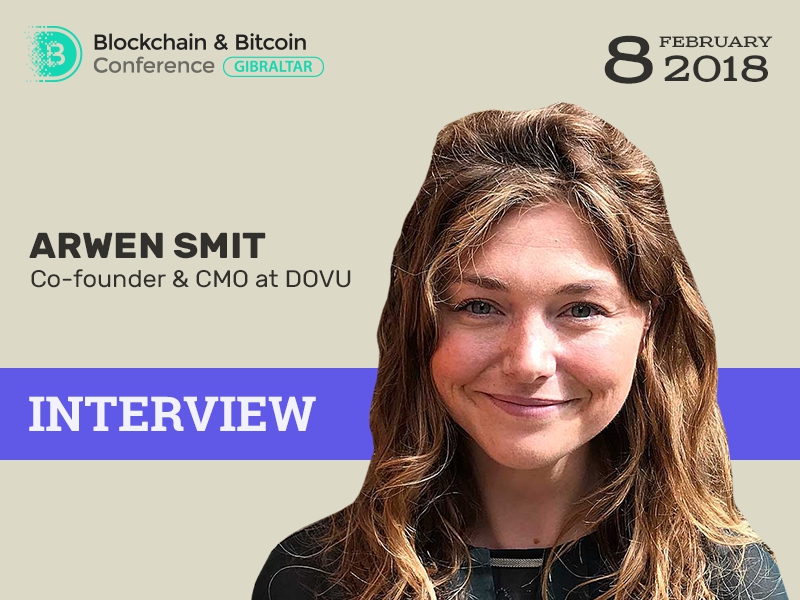 Blockchain allows opening new business models and monetization methods. But during the preparation for an ICO you can not prepare for everything - something just won't go according to plan. That's why a strong team is needed, thinks Arwen Smit, the co-founder & CMO at DOVU blockchain platform for mobility ecosystem. In an interview with Blockchain & Bitcoin Conference Gibraltar, where she is going deliver a presentation, Arwen shared her opinion on the role of blockchain in people's lives, and spoke about the difficulties in preparing for the ICO.
Interviewer: Blockchain & Bitcoin Conference Gibraltar (BCG)
Speaker: Arwen Smit (A.S.)
---
BCG: Hello, Arwen! Why did you choose ICO as a tool for raising money for the DOVU project development?
---
A.S.: Rule no 1: If you can realize your business model with a centralized database, use a decentralized database. However, if your business model can benefit from decentralization and tokenized incentivisation, it's worth to consider a token sale.
New ecosystems are based on value. DOVU uses tokenized incentivisation mechanisms to align stakeholder incentives to stimulate value-adding behavior. For example, you could earn DOV tokens by sharing data or through responsible driving behavior. In turn, you can spend your DOV token on services within the mobility ecosystem, such as parking or EV charging. With blockchain technology, you can leverage micro-transactions and micro-rewards to monetize previously unmonetizable assets, opening up new business models.
---
BCG: Concerning the ICO: what was the most difficult thing for your team in ICO preparation? How did you cope with the difficulties?
---
A.S.: A token sale is a global exercise in a nascent industry with many moving pieces. You can't plan for everything. There will be developments you didn't anticipate and the only way to counter those obstacles is to have a talented, flexible team. If the reasons why you do a token sale are sound (i.e. core to your business model), and you are in the market to build a long-term business, your product should speak for itself. However, setting up a long-term business comes with certain responsibilities on a legislative and team level. A global community needs to be able to trust the team to act in line with the communicated vision. Before you invest in a token sale, do your due diligence.
Governments have a responsibility as well. In my mind, it's more harmful for countries such as South Korea and China to be unclear about the current legislative environment and future developments than an outright ban. This amplifies market uncertainty and the corresponding volatility undermines widespread blockchain adoption on a corporate level.
---
BCG: What measures do you take to protect personal data processed by DOVU protocol?
---
A.S.: Given upcoming changes in legislation, namely GDPR (General Data Protection Regulation) coming into force on 25 May 2018, DOVU, together with its partners, is working very hard to make sure that all pilot projects will be built in line with the GDPR requirements. We are working on creating easy access and easy user experience with the necessary visibility. When the regulation was written it did not consider the vast variety of data that vehicles are collecting (especially when we speak about connected cars) and the fact that one piece of data might not be considered as "Personal Identifiable data", but when combined with another piece of data, both could identify the individual. This leads to both pieces of data being "Personal Identifiable data".
Various European automotive industry associations, EU Commissions and ECJ (European Court of Justice) are currently working on how to classify types of data and how to solve possible arising issues. DOVU is working with our partners to make sure all relevant measures are taken, and constantly make sure that we are aware of latest updates on legislation and where the industry is heading.
---
BCG: The idea standing behind DOVU protocol can change the whole system of data processing in the transport industry. In your opinion, will you face opposition among major players of this market?
---
A.S.: Blockchain is taking the world by storm. Approximately 1-2% of US citizens have been exposed to cryptocurrencies. Coinbase is ranked the #1 app in the app store, and valued over $1.7 billion. Bitcoin is bigger than ever, but so is the total pie ($0.7 trillion at the time of writing).
It would be odd for traditional transport providers not to express an interest. However, these companies are not, and within the next ten years will not be, blockchain development houses. To test these new technologies the natural course of action will be for them to partner with companies with deep expertise in this space, such as DOVU. This is evidenced by the caliber of the companies DOVU works with, such as BMW.
---
BCG: What do you think about the role that blockchain will play in the development of all areas of human activity?
---
A.S.: Tokens power decentralized applications. Within its native protocol, a token serves as a means of exchange, store of value, and unit of account. Looking beyond Bitcoin, tokens are capturing the world's attention with their innate ability to represent socio-technological systems – norms and values expressed in code, native the blockchain protocol. Blockchain gives humanity a chance to create new economic, political and social systems, which are more transparent, resilient and empowering for the individual.
Cloud computing is used on a day-to-day basis. Every time you snap a picture, it is automatically saved to your Apple or Google cloud. Blockchain will follow a similar trajectory. If implemented well, the technology becomes invisible and embedded in day-to-day use.
Combining these two developments we will see a new generation of ecosystems and a revised definition of the value moving within these communities.
---
BCG: Please, tell us more about your presentation at Blockchain & Bitcoin Conference Gibraltar. What will you focus on?
---
A.S.: At BBC Gibraltar, we will discuss what steps the industry needs to take to bring blockchain to the masses, and discuss what role transportation can play herein.
If you're interested in supporting widespread adoption of blockchain technology, or in mobility and transportation sector, we look forward to seeing you there!
Register to Blockchain & Bitcoin Conference Gibraltar and ask your questions to Arwen Smit in person.