Follow the regulation trends. Keynote expert Gary Nuttall to have a talk at Blockchain & Bitcoin Conference Gibraltar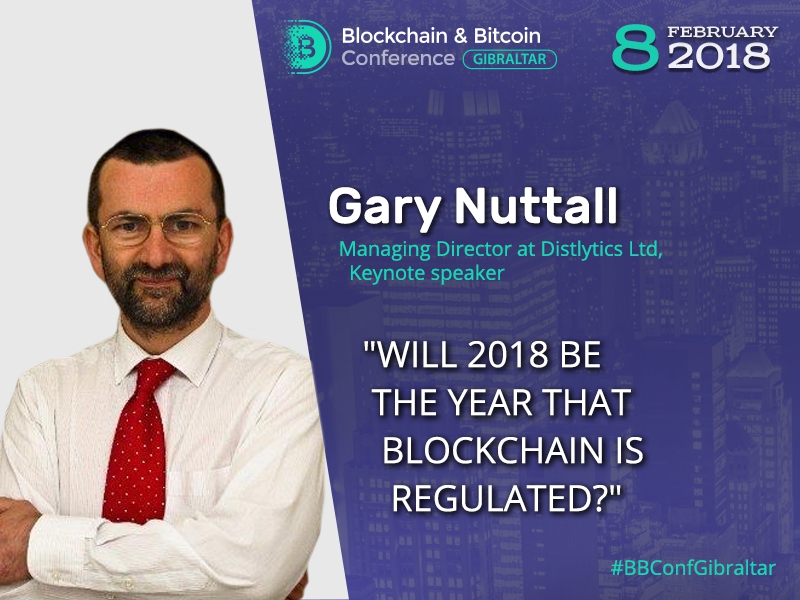 2018 may be the best year for blockchain industry development, according to one of our keynote speakers, London-based Fintech enthusiast Gary Nuttall. Awareness of this tendency commits entrepreneurs engaged in decentralized technology development to keep their finger on the pulse in terms of legislation.
So, will 2018 be the year that Blockchain is Regulated? That's going to be one of the hottest topics of Blockchain & Bitcoin Conference Gibraltar, addressed by the speaker.
Gary Nuttall: currently a Managing Director, as well as a person listed in Top 100 Blockchain Insiders by ICHTOPIA as Fintech enthusiast and founder of Distlytics Ltd (a consultancy implementing Distributed Ledger Technology within Fintech). Technical consultant, advisor to multiple startups on crypto and ICO's.
Mr. Nuttall also spent over 25 in retail, insurance, pharmaceuticals and commodities trading. Qualified professional in Data and Business Analysis, Distributed Ledger Technology, and has expertise in the legal sector. A well recognized author of the blog and a participant of major conferences.
Get your tickets and join Gary Nuttall to boost your knowledge about Blockchain regulation!