Headliners and key topics of Blockchain & Bitcoin Conference Gibraltar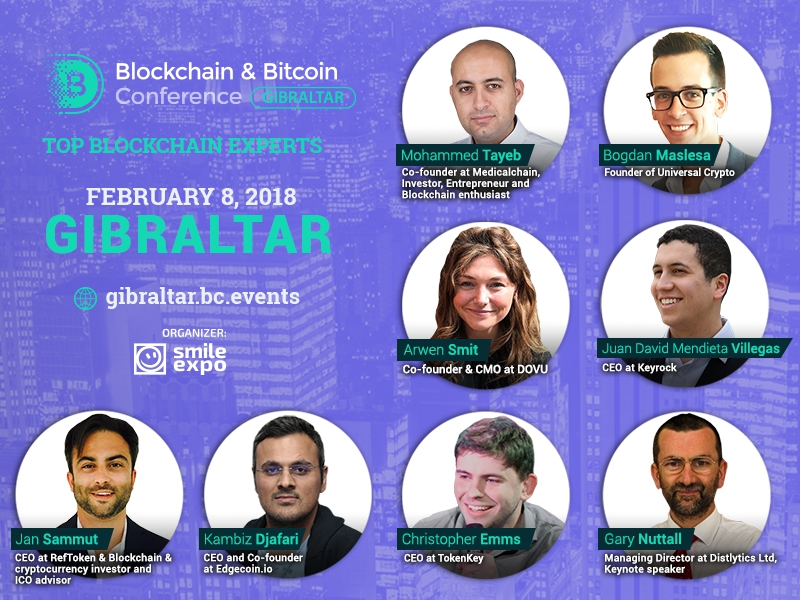 How to conduct ICO, in which projects to invest in 2018 and what will happen in crypto legislation? These questions will be answered by the Blockchain & Bitcoin Conference Gibraltar speakers. We have listed the key figures and topics of the upcoming conference.
One of the most long-awaited speakers of the event is the co-founder of DOVU Arwen Smit. Arwen is a successful blockchain entrepreneur and a world-renowned expert in the field of logistics and transport. At the conference, she will report on 'How to bring blockchain to the masses – and the role of transportation and mobility therein.'
The speakers also include Managing Director, as well as a person listed in the Top 100 Blockchain Insiders by ICHTOPIA as Fintech enthusiast and founder of Distlytics Ltd Gary Nuttall. His report will be dedicated to one of the hottest topics: 'Will 2018 be the year that Blockchain is Regulated?'
The headliner of the event will be also a blockchain entrepreneur, a specialist in venture and crypto investment, CEO at TokenKey Christopher Emms. He will tell the audience how to attract investors and carry out ICO campaign without common errors.
How to make money on cryptocurrencies? This issue will be discussed in the report of the Head of Keyrock Juan David Mendieta Villegas. He will advise which cryptocurrencies are better to invest in and how to manage your assets properly to increase revenue.
The co-founder of Medchain Mohammed Tayeb will present a report on 'Blockchain in the healthcare space'. The expert will explain how to improve medical services using smart contracts and distributed ledger.
The founder of Universal Crypto Bogdan Maslesa will tell about the role of blockchain in the society in the future, and explain why IT professionals today should pay more attention to the distributed ledger technology.
How to eliminate weaknesses of advertising networks with the help of smart contracts, conduct successful ICO and expand the audience of your project in the shortest time possible – these issues to be covered by the CEO at RefToken Jan Sammut.
The CEO and co-founder of Edgecoin.io Kambiz Djafari will explain the impact of tokens on the economy, their classification, and application fields.